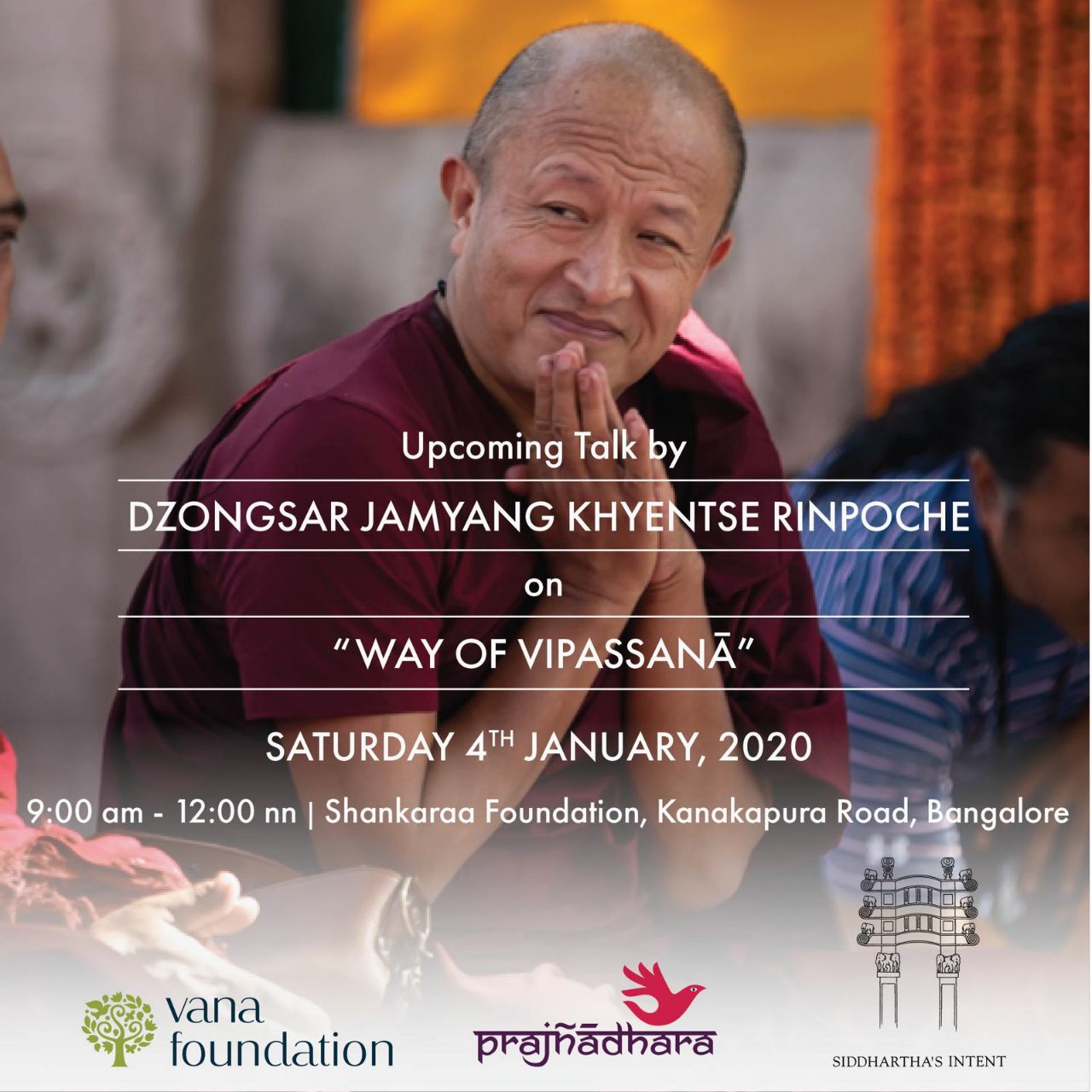 | Namaste |
We, at Prajnadhara in collaboration with Siddhartha's Intent and Vana Foundation are delighted to invite you to the Talk by Dzongsar Jamyang Khyentse Rinpoche in Bangalore on Sat, 4th Jan 2020 at 9am.
Prajñādhara is a division of Snehadhara Foundation (SF). SF is a registered non-profit organisation based in Bangalore. It is the only organisation in the country that works with arts practices as the primary methodology to facilitate social, emotional and learning goals for children and adults with disabilities.
Prajñādhara is one of three SF initiatives crafted in pursuit of this goal. Prajñā means wisdom and translates into realizing or perceiving the true nature of reality; seeing things as they are, not as they appear. Prajñādhara's twin aims are to create inclusive spaces that celebrate neurodiversity by certifying students in Arts Practices for Inclusion (API) and Study of the Mind.
The Study of the Mind series propagates the eastern philosophical mind traditions, a secular framework of diverse practices of Buddhism, Sufism and Mysticism in popular religious philosophy and makes these unique traditions and sciences accessible to people from all walks of life by hosting Teachings from Masters in the field of Indian Mind Traditions and bringing together a Sangha.
Dzongsar Jamyang Khyentse Rinpoche
Khyentse Norbu, also known in the Buddhist world as Dzongsar Khyentse Rinpoche, is trained as a philosophy teacher. He graduated from various school in India and Europe. In addition to his formal education, Rinpoche has studied with some of the leading Tibetan Buddhist masters of the 20th century. He is the head of the Dzongsar Monastery and Dzongsar College and is currently responsible for the care and education of approximately 3000 monks in six monasteries and institutes in Asia.
Khyentse Norbu also oversees Siddhartha's Intent and contemporary teaching and practice centers on several continents, as well as the non-profit organizations Khyentse Foundation, 84000, and Lotus Outreach. Rinpoche has also authored several books on following the Buddhist path in the contemporary world. Dzongsar Khyentse Norbu has directed several award-winning feature films including The Cup, Travellers and Magicians, Vara: A Blessing, and Hema Hema.
How to Register:
1. Click on the Registration box above and login with your email address
2. Please fill out all the given fields that are mandatory. Please note that only one registration is allowed per email id.
3. Click on submit
4. You will receive an automatic email confirming your registration
The deadline for registration is Sunday, 20th Oct. However, seats are limited and on a first-come first-serve basis. We encourage you to register as soon as possible.
We will send you further communication with practical information leading up to the talks.
If you have any queries, please email us at prajnadhara@snehadharafoundation.org
We sincerely hope that you are able to attend the Talk and look forward to seeing you !
With best wishes and warm regards,
Team Prajnadhara