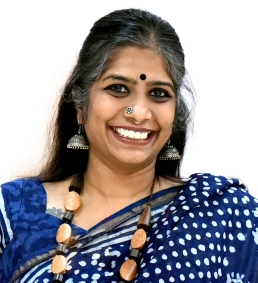 GITANJALI SARANGAN
Arts Based Therapy Practitioner
Gitanjali , founder of Snehadhara Foundation is an educationist, a social entrepreneur, an ABT (Arts Based Therapy) Practitioner, an ABT Guide and ABT Educator with Permission to Teach from WCCL Foundation. Snehadhara Foundation is the first centre in the country that uses Arts Based Therapy as the only methodology to work with children and adults with special needs.
Gitanjali is a recipient of the Millennium Alliance Grant for the project 'Kala Samavesh -Inclusion and Education of Disabilities. She has been awarded as one among the 50 Most Impactful Social Innovators (Global Listing) by the World CSR Congress and Awards. Gitanjali is also the recipient of the 'Dr. Amarnath Annual Award for Inclusion', 2016. She is one among two artists to be awarded the Artist's Grant 2014 for the 'Art in Education Program' by the India Foundation for the Arts and the Artist's Grant 2014 by India Foundation for the Arts. She has been recognised by Global Ethics Forum and Indian Institute of Management, for working towards establishing an impartial and fair world. She has also spoken at the TEDx BITS Hyderabad on 'The Goodness of Life'.
Over the past few years, she has been conducting seminars and workshops at with various groups and organisations on taking learning methodologies to varied populations using Arts Based forms. She has designed and facilitates a certificate course along with Headstreams at Christ University, IIPR (Indian Institute of Psychology and Research), St.Joseph's College and Mount's College titled 'Psycho-Socio well being using Arts and Play'. In association with Mirra Foundation she has designed and conceptualised Hridakasha – 'Enabling peer – peer interaction to create inclusive empathetic learning spaces for children with disabilities using the Arts' . Gitanjali is on the panel of experts of the 'Arivu Disha' A two-Pronged Program to Improve Learning Outcomes and Career Prospects of government school children in Karnataka.
Gitanjali was a speaker at the Mentor Conclave, 2015 for school leaders, educators, academicians and researchers & professionals to bridge the knowledge gap, promote research esteem and the evolution of pedagogy. Her paper 'Arts Based Therapy for enabling peer to peer social interaction between neurotypical children and those with special needs' – National Conference on Models of Best Practices in Empowerment of Persons with disabilities at Kottayam, Kerala ; Oct 2015 enthused the interest of professionals working with special populations to look at holistic learning methodologies.
Gitanjali has a Master's Degree, a University Rank holder in Biochemistry, and has been a Lady Tata Memorial Scholarship Awardee. She also had a PG diploma in Applied Buddhist Psychology and Ethics from Pune University. She has been a recipient of the Uma Kela Prize for the Biochemistry at the Masters Level and presented papers at symposiums at CRI, Mumbai, Institute of Science. She has completed her DELF-2 from Alliance Francaise and taught French at Jyoti Nivas College Bangalore. Gitanjali is trained in Carnatic as well as Hindustani Classical music and is a Bharatnatyam dancer.