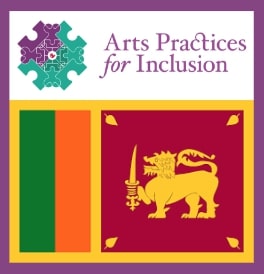 Arts Practices for Inclusion in Sri Lanka
What is Arts Practices for Inclusion? 
Arts Practices for Inclusion (API) are a series of methods and practices which aim to create the therapeutic benefits of social inclusion through arts practices like visual arts, drama, music, movement and play.  API is suitable for teachers, special educators, psychologists, speech, language and occupational therapists, arts therapists, social workers, persons working in or wanting to work in intersections of disability, special needs, social or economic exclusion, with a view to bring the therapeutic benefits of arts practices as available through social inclusion.
The programme conceived by itself is path breaking and unique worldwide, recognized by organisations across continents. The dynamic nature of the programme makes it stronger every year apart from providing a great scope for localisation. The Millennium Alliance has also awarded a 3-year project to take this know-how to Nepal for creating capacity to enable inclusion using this methodology and we are working with 30 participants from India and Nepal for our first batch of API, and 18 participants from India and Nepal for our second batch, and the project has been an enormous success in both countries. 
Our Intent for work in Sri Lanka
The economic crises in Sri Lanka have had a far-reaching impact not only on the present but also the future of the economy. A news report in the Hindu estimates that Sri Lanka needs at least $4 billion to tide over its mounting economic woes, and reports talks with international institutions such as the World Bank as well as countries like China and Japan for financial assistance have been going on. Apart from the financial drain, inflation and other indicators of devastating socioeconomic effects, reports on the human toll of the crises are alarming. A recent article in the Lancet mentions that "establishing a stronger social protection system to help cope with escalating out-of-pocket expenses of households, impacts on productivity, and reduced earning capacity must be done" and that "improving efficiency by reorganizing service delivery (eg, strengthening primary health-care services and an appropriate referral system) must be done."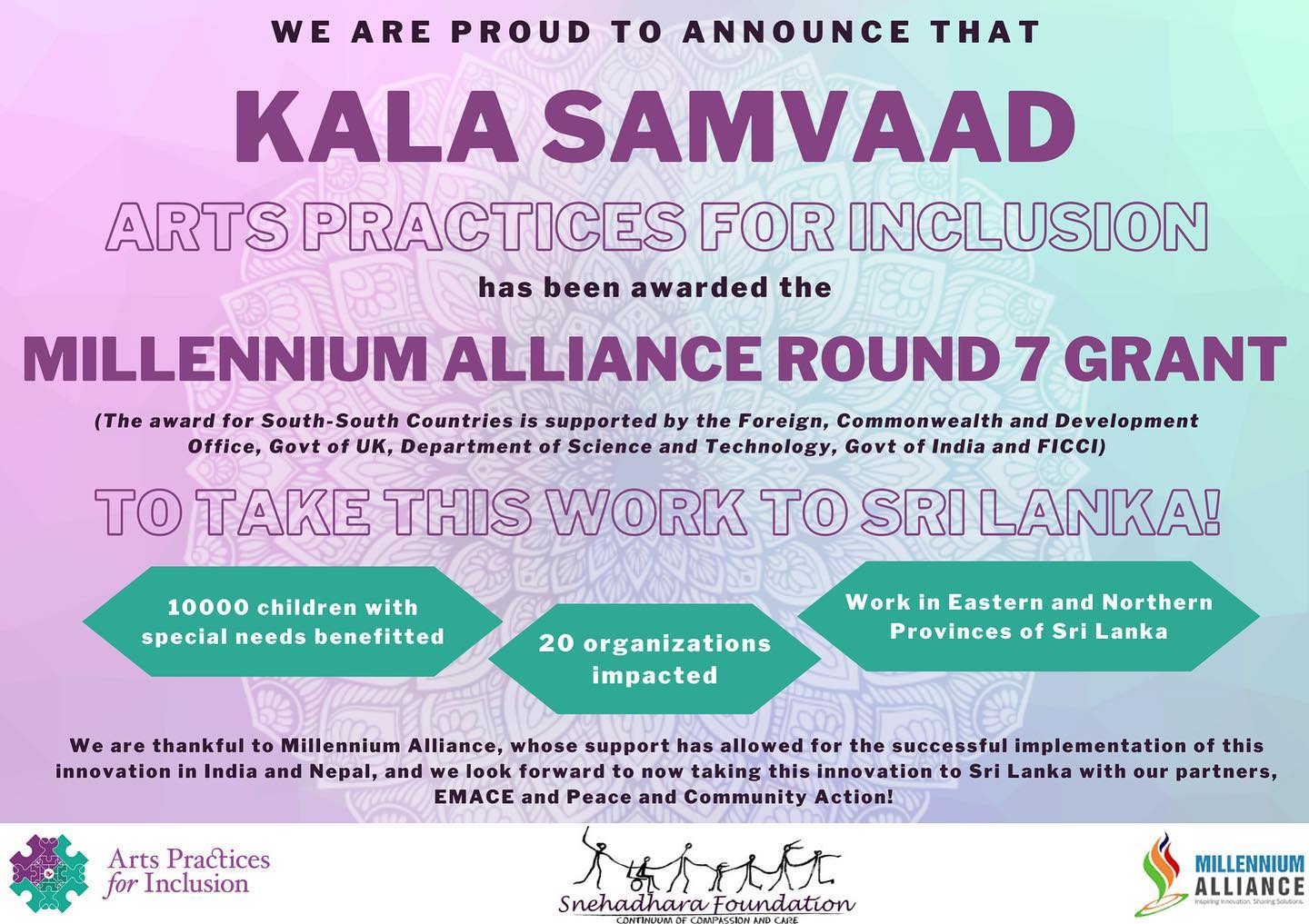 Snehadhara Foundation has been awarded the Millennium Alliance Round 7 Grant to take its work with Arts Practices for Inclusion to Sri Lanka. The award for South-South Countries is supported by the Foreign, Commonwealth and Development Office, Govt of UK, Department of Science and Technology, Govt of India and FICCI. This third-time support from Millennium Alliance will allow us to take the work to the Eastern and Northern Provinces of Sri Lanka, benefitting 10000 children with special needs across 20 organizations.
Previous Work in Sri Lanka
As a first step to talk to organisations and open this dialogue about Arts Practices for Inclusion (API), we hosted webinars for particular organizations to explore synergies. In these free webinars, we will be showcasing API's highlights and how organisations in Sri Lanka can benefit from the same. We would also be talking about the API Introductory Course and its offering during the webinar. 
The first webinar was offered for the Eastern Self-Reliant Community Awakening Organisation (ESCO) in Sri Lanka, which has been working on implementing development activities for the past 18 years in the eastern province of Batticaloa, Trincomallee, and Ampara, in Sri Lanka, and it has been committed to rebuilding the lives of children and their families affected by the war & conflict. The webinar took place on 19th September, 2022. 
The second webinar was conducted for EMACE Foundation in Sri Lanka, an organization that works to protect the basic human rights of the most vulnerable people – women, children and the displaced and to support the attainment of adequate means of income generation, health care, education, security and environmental sustainability, while actively influencing government and industry towards greener policies and practices. The webinar took place on 14th October 2022. 
The third webinar was offered for Peace and Community Action, Sri Lanka, on 17th October. PCA was formed in 1999 by a group committed to helping people explore alternatives to the use of violence as a response to conflict. PCA began as a grass root level peace organization and now has excellent networks and relationships in the communities it works with.
If you are an organization interested in collaborating with us, write to us at snehadhara.foundation@gmail.com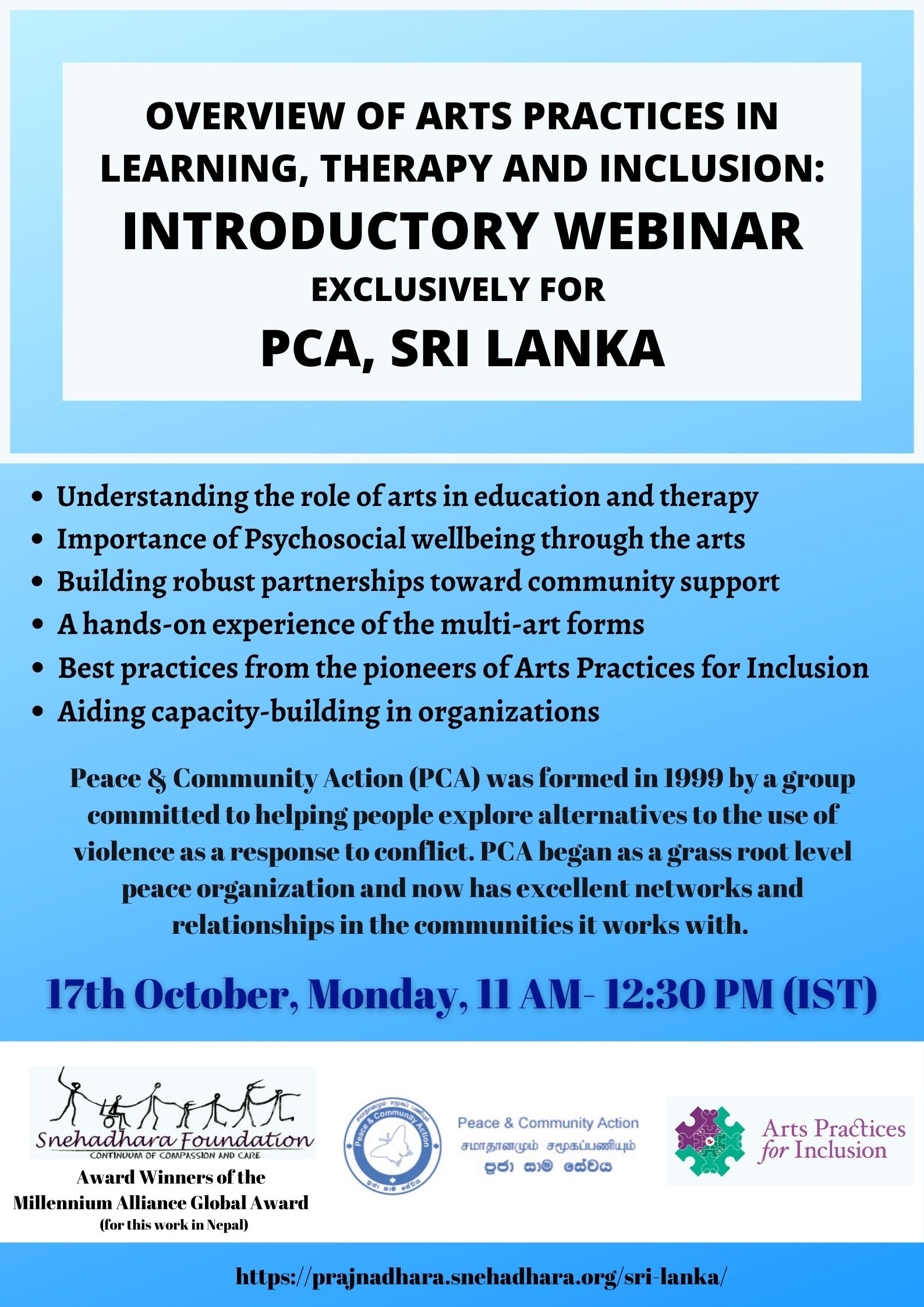 Our Previous Work in India and Nepal with the API Introductory Courses