The Study of the Mind series propagates the eastern philosophical mind traditions and makes these unique traditions and sciences accessible to people from all walks of life by hosting Teachings from Masters in the field of Indian Mind Traditions and bringing together a Sangha.
We were glad to collaborate with Vana Foundation Talk Series by Ratnashree Ji on 'What is a Buddha & History of Buddhism in India', on 3rd February, 2019 at Bengaluru.
The Q and A session that followed after the talk had the audience ask questions like , " What is Dharma"? , " What is Emptiness"? "How do you meet your Guru"? With about 80 people who attended the talk the three hour session kept everyone engaged.
Team Snehadhara's unconditional participation and ownership of the event was extremely laudable.
About the teacher
Ratnashree Ji was born in Kathmandu, Nepal in 1949. He is a master of the Rime school of Vajrayana Buddhism, with a special emphasis on the Sakya teachings. He also maintains a keen interest in both Zen and Theravada practices, and one of his aims is to make available all aspects of the Buddha dharma to those interested in studying and practising it. As such, he promotes a non-sectarian and universal Buddhist tradition, where all lineages and traditions of Buddhist practices are respected.
While his Hindu background has facilitated his teachings and interactions in Nepal, his wide knowledge of western philosophy and psychology makes his style especially suited for western and western-oriented students.
Although he is under a strict practice schedule in retreat, he has always found time to disseminate his teachings, primarily in the form of written discourses, which are translated and read by his chief disciple, Narayan Prasad. Three volumes of these teachings, entitled "Bodhipushpanjali" (The Flower Garland of Wisdom) have so far been compiled and published.
We, at Prajnadhara, were delighted to be a part of His Holiness the 14th Dalai Lama's teachings on 11th and 12th of August, 2018 in Bangalore on 'Courage and Compassion in the 21st Century' and 'Indian Wisdom in the modern World'. He addressed 800 people on each day of the event.
The event was organised by Vidyaloke, meaning wisdom and light, an organization that aspires to provide shishyas the opportunity to study and learn from the greatest teachers of our time, through teachings, talks, interactions and virtual resources.
 The team at Snehadhara too played an active role in supporting the event on both days. Their unconditional ownership of the program as well as proactive participation was highly appreciated.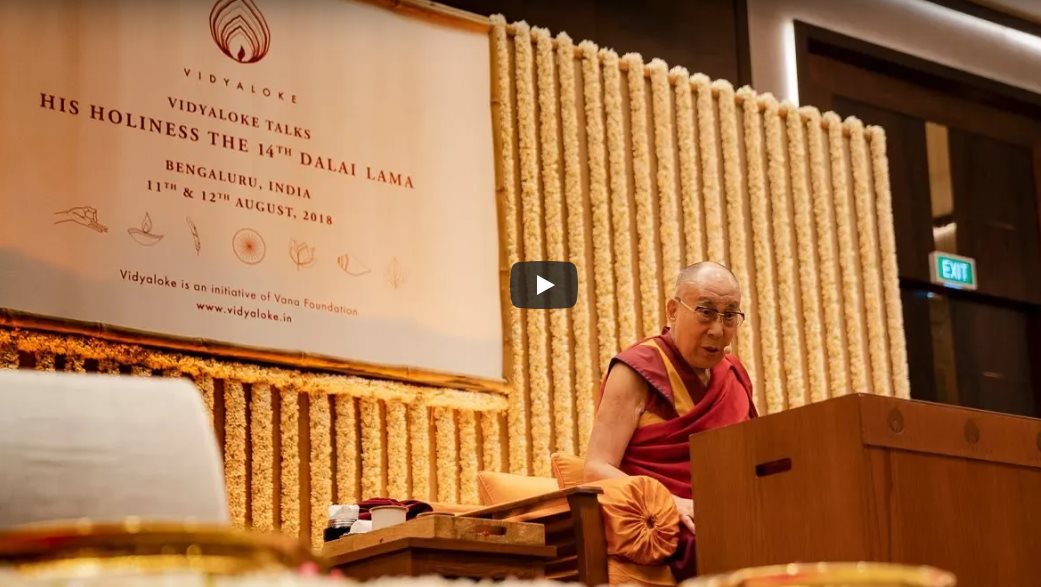 Video excerpts of his talk and interaction with the audience
 Our Founder & Executive Director, Gitanjali Sarangan was one of the esteemed panelists for a discussion on "Courage and Compassion in our Daily Lives" on 11th August, 2018. The panel comprised of eminent Buddhist Scholars and Experts.
Pema Karen Schaefer's teachings on the 10th March, 2018 titled 'Applying Wisdom and Compassion in our Pursuit of Happiness' took us on a journey of self-reflection, contemplation and interactive sharing.
Our work with inclusion was epitomised beautifully by Ven. Ani Pema's presence in her teachings on Applying Wisdom and Compassion in our pursuit of happiness. Her teachings brought a sense of togetherness to a diverse crowd of people from varied spaces. In the midst of the verdant setting, interspersed with vivid flowers, where the twitter of birds and the rustle of the breeze added to the spiritual ambience; each person carried that morsel from the teachings which inspired and revived their thoughts and feelings the most. What was beautiful was that the content seemed accessible to all, each person could relate to the examples that emerged from her own life.
Some reflected on whether acknowledging and accepting our mortality make us appreciate our life more; if we knew that time was limited, would our responses to situations be different, would there be more compassion? Others pondered upon the quintessential "Who am I? What am I here for? How do I find the path that leads me to the purpose of my life?"The question of Happiness was linked by some to the purity of childhood and its connections while others sought to look at the sharing in the joys and sorrows of another.
About the teacher
Ven. Pema (Karen Schaefer) has been a Buddhist monastic for 16 years, ordained and trained in Bhutan and Taiwan. After being qualified in Transpersonal Psychology from California, she practiced as a counsellor and human resource trainer in major corporations in the US and Australia. Her teachings emphasize on an integration of physical, psychological and spiritual well-being practices and inspire others to seek a holistic approach to their personal practice and work.
In the Teaching titled "Skilful Compassion", Geshe Dorji Damdul addressed a gathering of 150 people on 12
th
October 2016 with a focus on how to bring wisdom traditions and practice into our daily lives.
About the teacher
In 1988, Geshe Dorji Damdul joined the Institute of Buddhist Dialectics, Dharamsala for formal studies in Buddhist logic, philosophy and epistemology. After 15 years of study in Buddhist philosophy he finished his Geshe Lharampa Degree (Ph.D.) in 2002 from Drepung Loseling Monastic University. He joined Gyudmed Tantric College for a year for Tantric studies. In 2003, the Office of H.H. the Dalai Lama sent him to Cambridge University, England for Proficiency English studies. He was a visiting fellow at Girton College, Cambridge University. He was appointed as the Director of Tibet House, Cultural Center of H.H. the Dalai Lama, New Delhi in March 2011.
He has been the official translator to H.H. the Dalai Lama since 2005 and has been serving as the interpreter for H.H. the Dalai Lama .As assigned by the Office of H.H. the Dalai Lama, he visited the US in 2008 to work with Prof. Paul Ekman on H.H. the Dalai Lama's book "Emotional Awareness" which is co-authored by Dr. Paul Ekman of the University of California Medical School.
You can also visit his Blog:
http://bodhiwisdom.blogspot.in
(Some video excerpts of his talk)