| Namaste |
We, at Prajnadhara in collaboration with Siddhartha's Intent and Vana Foundation are delighted to invite you to the 'Making Daily Life our Spiritual Practice' by Venerable Jetsunma Tenzin Palmo on 2nd Feb 2020 at Bengaluru.
Prajñādhara is one of the three divisions of Snehadhara Foundation (SF). SF is a registered non-profit organisation based in Bangalore. The pioneers of Arts Practices for Inclusion, Snehadhara Foundation believes that inclusion is the bedrock of a more compassionate and empathetic society.
The Study of the Mind series propagates the eastern philosophical mind traditions and makes these unique traditions and sciences accessible to people from all walks of life by hosting Teachings from Masters in the field of Indian Mind Traditions and bringing together a Sangha.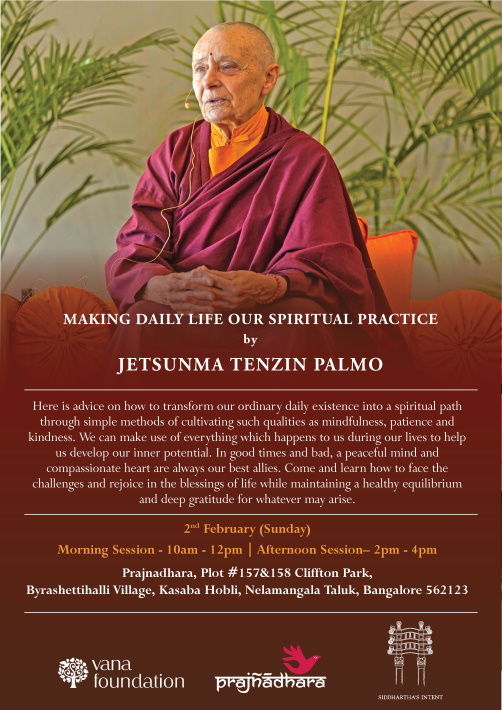 Making Daily Life our Spiritual Practice, 2nd February 2020.
Here is advice on how to transform our ordinary daily existence into a spiritual path through simple methods of cultivating such qualities as mindfulness, patience and kindness. We can make use of everything which happens to us during our lives to help us develop our inner potential. In good times and bad, a peaceful mind and compassionate heart are always our best allies. Come and learn how to face the challenges and rejoice in the blessings of life while maintaining a healthy equilibrium and deep gratitude for whatever may arise.
We would be delighted to have you attend. The deadline for registration is 12th January (inclusive). However, places are limited and on a first come first serve basis, therefore we encourage you to register as soon as possible.
( Registrations closed on 12th January )
Jetsunma Tenzin Palmo
Venerable Jetsunma Tenzin Palmo was raised in London. She travelled to India when she was 20 to pursue a spiritual path when she met her teacher, His Eminence the 8th Khamtrul Rinpoche, a Tibetan Buddhist Lama. She became one of the first Westerners to ordain as a Tibetan Buddhist nun. The inspiring story of her life, including 12 years of secluded retreat in a Himalayan cave, is the subject of the biography, Cave in the Snow. A popular Buddhist teacher, she presents the Dharma in a accessible manner to audiences across the world, offering methods to apply the Buddhist teachings in everyday life. Jetsunma is the founder and Abbess of Dongyu Gatsal Ling Nunnery in India, where some 100 young women, from the Himalayan region received monastic training. In 2008, Tenzin Palmo was given the title of Jetsunma, meaning Venerable Master, by His Holi-ness the Twelfth Gyalwang Drukpa, Head of her lineage.