The first batch of the introductory course on Arts Practices for Inclusion saw professionals in arts practices from six different states from across India come together to talk about the cross-roads between inclusion, therapy and the arts. Participants came from different social inclusion fields like arts and therapy interventions with children and adults with learning disabilities, special needs, victims of sexual abuse and other at risk and vulnerable populations.
19 participants attended as per these geographic details: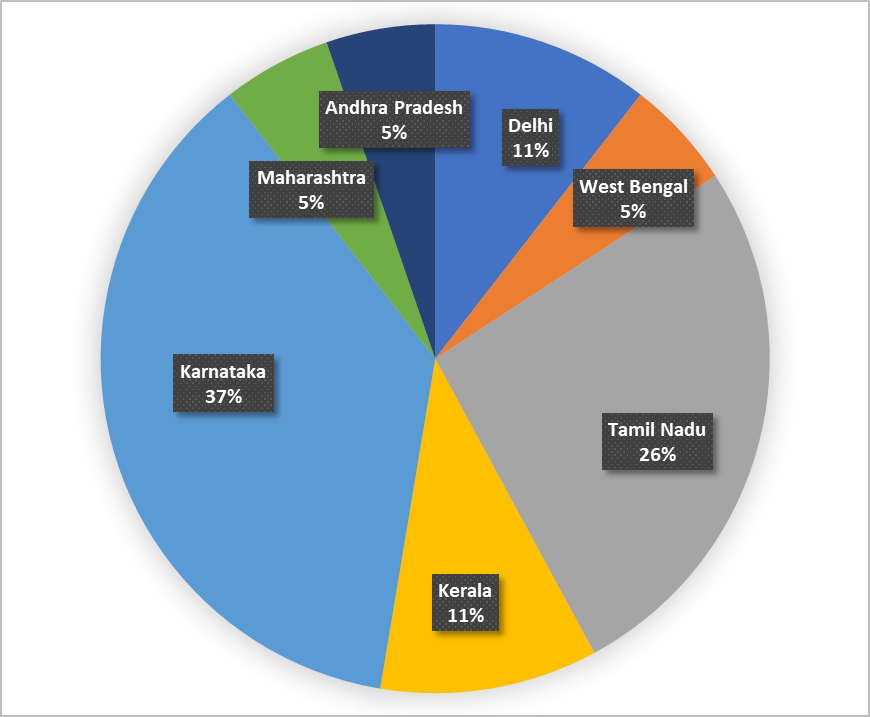 I enjoyed the program immensely. The art sessions as well as the spiritual sessions were both very precious. Not just those, but even the planning session on virtual case studies was very useful and enlightening. The modules were very well thought of and structured to perfection.
It has helped me to think more on the lines of combining the process as part of the Arts therapy practice. Peer inclusion and peer learning can be facilitated beautifully through Inclusive play, music therapy, etc.
The discussions and materials exchanged during the API introductory workshop has brought the awareness of being in the present and to be present. The workshop would enable me to be more sensitive to the needs of my immediate community and their needs. I would then be able to look at simple ways of including and enrolling individuals to contribute to a bigger circle (society).
The flow seemed to be well thought out. Each of the three days had elements of self-care at a physical and emotional level. Every session modelled how the flow should be. There was a consistent movement from within to without and back within – each day, every session and across the three days.
I feel so rejuvenated by the training programme. It has been a process of renewal. I feel like some fogginess in the mind is clearing
There is a saying "we all know it, but when it is time to act we don't remember much. A reminder is needed." This programme was that. It was a reminder. It was a reminder with steps to do it. This I appreciated it a lot. To be able to put it down on paper makes it tangible. More knowledge and experience will come once we start making inclusion circles ourselves.
Every facilitation created a new experience as when the facilitator himself or herself was part of the process. Hence was able to observe being present to themselves and improvisations just happened.
Check out the Facebook Album